6 Reasons Why You Should Love Christmas- Part 2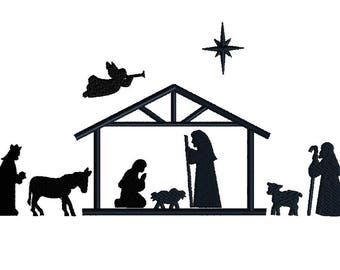 This is the second post following up on the last one Here where we saw 3 reasons. Today, we look at 3 more;
4. It Rebukes Your Worldliness
One unfortunate thing associated with this season is a growth in worldliness. But as for you Christian, learn from Jesus who, his becoming man didn't change his being God nor did he fit in with the establishment. "Your attitude should be the same as that of Christ Jesus: Who, being in the very nature God, did not consider equality with God something to be grasped, but made himself nothing, taking the very nature of a servant, being made in human likeness. And being found in appearance as a man, he humbled himself and became obedience to death – even death on a cross! " Phil. 2:5-8.
Our Saviour came as a meek servant-king whose aim was not to be served but to serve- laying down his life for sinful humanity. His humility didn't take away his deity. He suffered, endured and died, obeying his Father (doing his Father's will) for the salvation of sinful humanity.
The Christmas season then is a time of reflection and thinking of what our servant-king has done for us and living to be like him. Instead of wallowing in worldly living, we embrace humility because that is the way of our Saviour. Instead of selfishness, we embrace selflessness because that is the way of our Saviour. Instead of only receiving, we generously give because that is the way of our Saviour. We are not those who follow the ways of this world, for 'for we are in the world but not of the world.'
5. It Comforts Your Sorrows
One that I love doing during the Christmas season is to listen to Hendel's Messiah. Apart from the composition itself being so good, the other thing (most significant) that makes it stand out for me is the richness of its message particularly from prophet Isaiah "Comfort, comfort my people, says your God. Speak tenderly to Jerusalem, and proclaim to her that her hard service has been completed, that her sin has been paid for, that she has received from the LORD'S hand double for all her sins." Isa. 40:1-2. At a time when God's people have experienced exile into Babylon, after suffering and great devastation, they receive this wonderful news from God 'comfort, comfort'. The comforting has now come because the punishment and service has been completed and sin has been paid for. The message in the verses that follow this is that of a voice calling in the desert prepare the way for the LORD, to make straight a highway for our God. Precisely, the LORD'S coming is what brings this comfort. The LORD himself comes to take away the sorrows of his people. He himself undergoes sorrow, suffering, drinks God's wrath for our sake. As one hymn writer wrote,
'He took my sins and my sorrows,
And made them his very own,
He had no tears for his own griefs,
But sweat drops of blood for mine'
This is what Jesus took it all for you and me. Moreover, there's nothing we can go through right now that he can't handle. There's no pain or sorrow we can experience that he isn't familiar with. He indeed is our faithful high priest who is able to sympathize with us in our troubles and sorrows. This Christmas, we have a place to come to in our sorrows.
6. It Assures You Christian of the Future Hope
Knowing what tomorrow looks like will definitely alter how we do things today. There are those whose lives dramatically change when they get children for they know that apart from just spending for themselves, they have to try and 'make a future' for their children. But apart from that, as far as our ability is concerned, none can claim to know exactly how tomorrow will look like in our limited human understanding. We try to predict things, sometimes they come, sometimes they don't. Yet with Christ's coming, the future is as brighter and as clearer as it can ever be for Christians. Jesus came in fulfillment of God's plans in the past and his past coming in itself is a surety of God fulfilling his promises for the future. Indeed 'all his promises are 'yes' in Christ.'
Here is one sure promise that we have as far as our future is concerned;
"Then I saw a new heaven and a new earth, for the first heaven and the first earth had passed away and there was no longer any sea. I saw the Holy City, the new Jerusalem, coming down out of heaven from God, prepared as a bride beautifully dressed for her husband. And I heard a loud voice from the throne saying "Now the dwelling of God is with men, and he will live with them. They will be his people, and God himself will be with them and be their God. He will wipe away every tear from their eyes. There will be no more death or mourning or crying or pain, for the old order of things has passed away."" Rev. 21:1-4.
As Christians, Jesus' first coming is not the end of the story. There's another coming. We live between two Advents. The first one has happened, we are awaiting the second one. It's the second one that will usher in the new heaven and earth that John the Revelator is talking about. In his second coming, the old order of things gives way to the new order of things. In fact, his first coming has already set this motion and every Christian experiences a new sense of things.
The story started with humanity in a garden, having full access to God where he'd 'hang out' with them, the story ends with humanity in a garden-city, having full access to God in a much better way, where God isn't just 'hanging out with' but dining with humanity.
As you celebrate Christmas, don't stop, take that step further to the Second Advent. Herein lies our future hope.
By Fidel Nyikuri